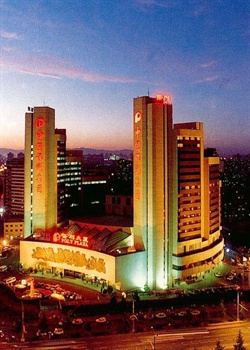 Located within easy striking distance of Beijing Workers' Stadium, the Poly Plaza Hotel (Baoli Dasha) is also handy to the Sanlitun Embassy Area, one of the capital's most popular dining and entertainment districts. The Dongsishitiao Metro Station adds to the Poly's convenience—most major Beijing attractions and neighborhoods reached with relative ease via the Metro following its expansion.
Beiijing's Poly Plaza Hotel features a central location, a unique building housing both the Poly Theater and Poly Art Museum.
Clean spacious and modern rooms in this Beijing hotel are available in the main building, with dorm-style budget accommodations on offer in a separate location. Rooms are completed with satellite TVs and free broadband internet access.
The hotel is home to both Chinese and Western restaurants, with Chinese offerings including Shanghai and Hunan-style dishes.